Gel Medium is used by almost all artists and crafters for a variety of creative pursuits.
Soft Gel. Regular Gel. Heavy Gel. Extra Heavy Gel. High Solid Gel. Liquid Gel. Matte. Gloss. Whaaat?? Have you ever been to an Art Supply store and wondered, "Why are there so many different Gel Mediums?" and, "Which one do I need?".
The purpose of a medium is simply to change the consistency and/or appearance of acrylic paint. That makes it a powerful tool to create a variety of new and exciting arts and crafts. For example, artists such as Dutch painter Vermeer used a glazing technique to create luminosity in the 1600s, which is today commonly accomplished with certain types of Gel Medium.
WHAT IS A GEL MEDIUM?
I struggled to find a true 'definition' as I researched. Gel Medium is essentially a binder without pigment. Without getting too technical, it was initially an acrylic substance used to build texture in paintings by mixing with acrylic paint. It increases the paint's transparency and dries clear without diminishing its consistency or adhesive properties. It is inter-mixable with all types of acrylic paints. It is lightfast, water-based, flexible, and permanent.
Gel Medium is used primarily for Arts and Crafts in various ways (mentioned below). They come in a variety of thicknesses (viscosity), sheen, and transparency. Artists and crafters use it to build texture in paintings, as a glue in collage and mixed media, as a top coat to protect artwork, like a decoupage tool, as a means to transfer images, as a glaze when mixed with pigment, and so much more. It is sold in many Arts/Crafts/Hobby Shops under various brands.
EVERYONE HAS A FAVORITE GEL MEDIUMMy personal favorite is by Golden Artist Colors, but other manufacturers such as Liquitex offer excellent options as well. You will find the one you like best. As you can see, I have lots of paper and The Graphics Fairy ephemera to adhere to my junk journal pages.
Five popular Gel Mediums
Golden Artist Colors – Soft Gel Gloss
Liquitex Professional Matte Gel Medium
Mod Podge Matte
Dina Wakley Media Gel Medium Matte
Prima Marketing Art Basics 3D Matte Gel
Gel Mediums broaden the technical capabilities of the paint by adding sheen or reducing gloss, for example. There are three basic types of Gel Mediums–Soft, Regular, and Heavy. There are also three types of finishes–Matte (non-shiny), Semi-Gloss (sort of shiny), and Gloss (highest sheen, or 'most shiny'). Here is a closer look at each:
SOFT GEL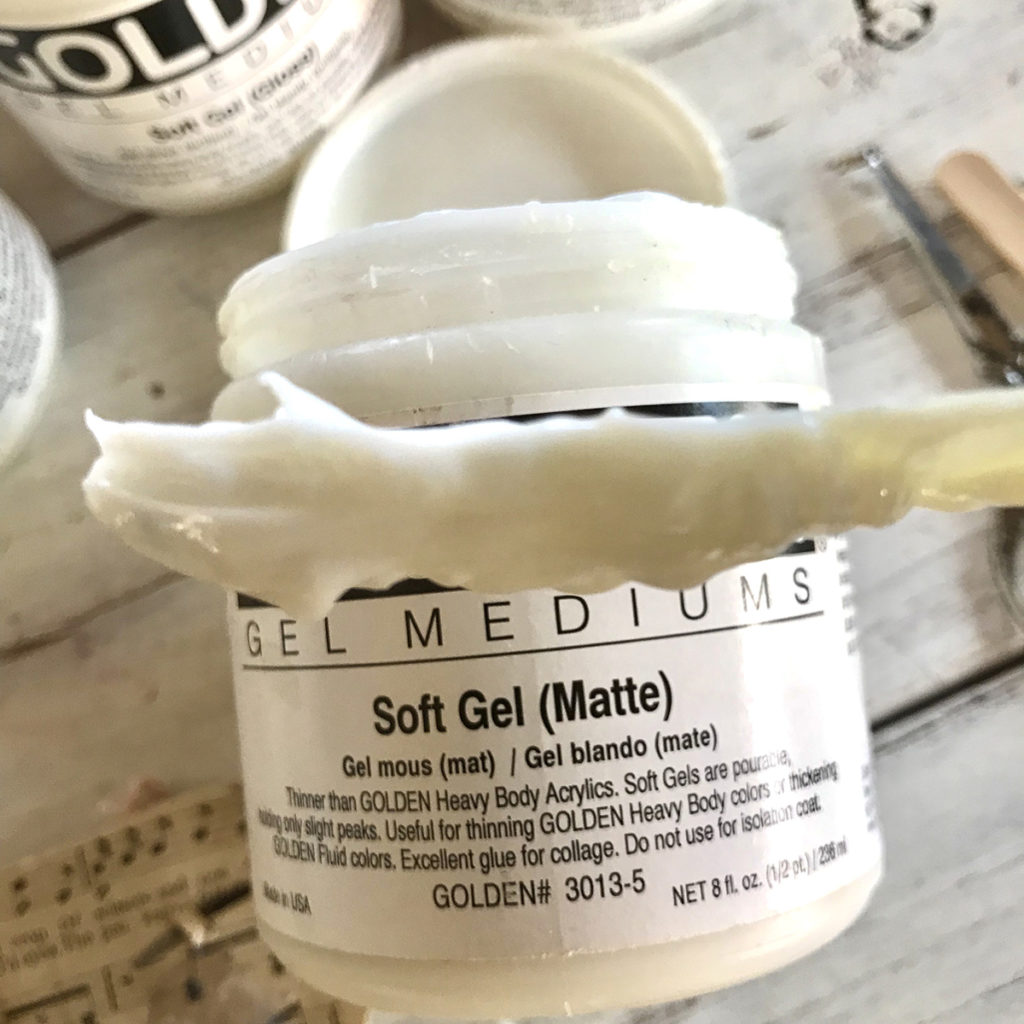 Soft Gel has a creamy consistency. Soft Gel is used by artists who mix in acrylic paints
to produce a rich, translucent glaze. It produces soft-edged brushstrokes and velvety textures.
Paper and Mixed Media artists most often use Soft Gel as an adhesive because its smooth consistency
allows them to manipulate, move, and place collage materials or ephemera. It is not as 'wet' as
other adhesives, so it allows the paper to settle more quickly with less curling. It is also used
as a topcoat. I think you can see the softness in the photo below.
REGULAR GEL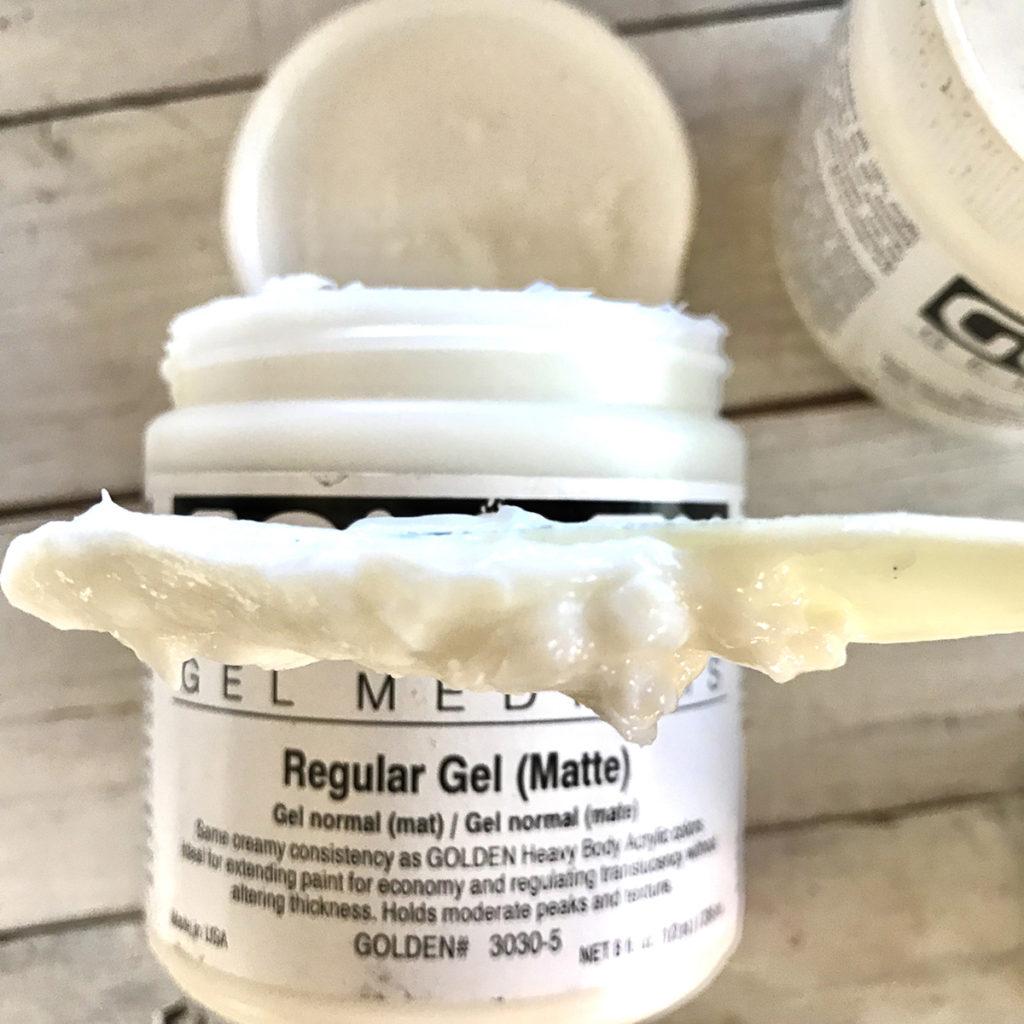 Regular Gel extends paint open time (stays wet longer) while maintaining its consistency.
It is useful for impasto techniques and glazing, which is applying a transparent layer of
paint over dry opaque paint to create luminosity. You can see some soft peaks in the photo below.
HEAVY AND EXTRA HEAVY GEL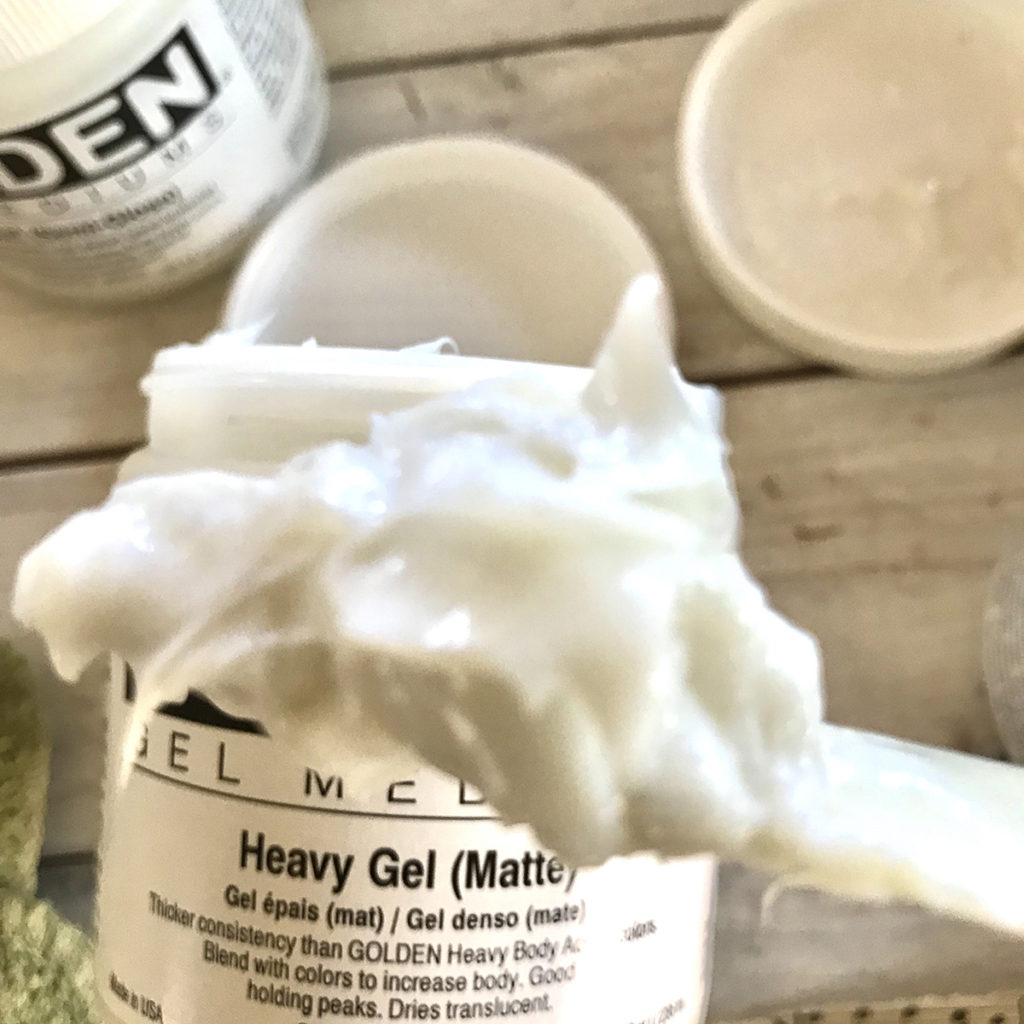 Heavy Gel increases the body of paint and has the ability to hold peaks. There are also
Extra Heavy Gels which bring more texture building capabilities. Both are used for impasto
techniques. You can see the high, stiff peaks below.